Slide Menu Properties Page 3 - Continued
The Menu Item panel defines the button labels, the actions to be taken and the image (if any) to be assigned to a button.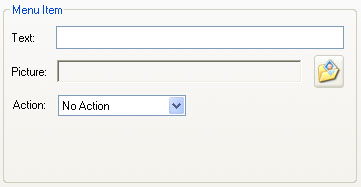 The label to be assigned to the selected button is entered into the Text box. this should be done as the last step as certain Action selections will place default values in the Text field.
The Picture combo box provides for the selection of the image to be assigned to the button. If the selected action is Jump to a Slide then the slide image to be jumped to, will be placed in the Text box as a default. This can be over written with any image selected.
Clicking on the folder icon to the right of the Picture text box opens a standard file browser window from which the desired button image can be browsed to and selected. The selected button image file is displayed in the Picture text box.
The Action pull down determines the action to be taken when the button is clicked.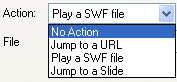 No Action leaves the button as a "tag" on the page with no actions associated with it. Selecting the other actions opens items in the pane and are explained and shown below.
The Action selections are:
No Action The button is treated as a picture with no links. Clicking on it does nothing.
Jump to a URL causes the action specified by the URL this can include loading a new URL, playing a movie, downloading a file etc.
Play an SWF file. This loads and plays the SWF file who's path is specified
Jump to a Slide Jumps to the slide selected from the Slide selection pull down list.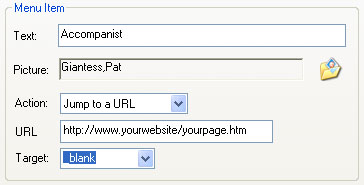 Selecting Jump to a URL adds the URL text box and target pull down menu shown.
Click here for a full description of the Jump to URL Action.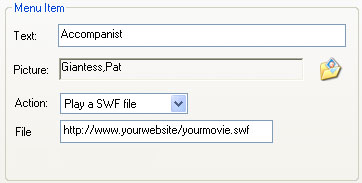 Selecting Play an SWF file adds the File text box shown.
For creating a CD ROM it is good practice to keep all the SWF files in the same directory so they may easily be copied to a CD ROM without running in to path resolution problems.
Click here for a full description of the Play a SWF file action.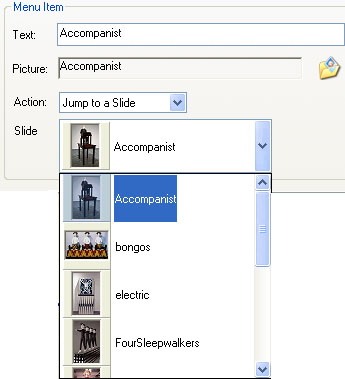 Selecting Jump to A slide will add the Slide Selection pull down menu to the panel.
The pull down will show a miniature and a name for each slide in the show. Clicking on the slide miniature selects the slide as the target of the action.
Click here for a full description of the Jump to a Slide action.