Photo Index - Continued - Layout Tools
The Photo Index tool provides numerous layout options. These include:
The number of thumbnail rows
The position of the thumbnails in the slide
The size of the thumbnails
Background color, texture and visibility of index
The color of the navigation arrow
The Photo Index Properties panel, shown below controls all these attributes plus other behaviors and features of the Photo Index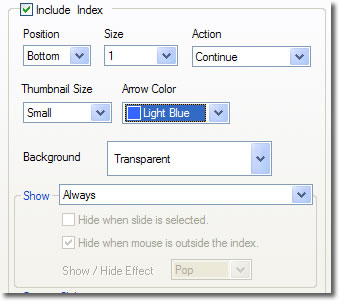 Photo Index Properties panel
The Position pull down menu lets you select the position of the index images in the slide.
There are four options provided.
Top
Bottom
Left
Right
| | |
| --- | --- |
| | |
| | |
Each image shows a single row index with Position set as follows, Left,Right,Top and Bottom
The effects of position selection are shown above.
The Size pull down menu selects the number of rows that will be shown in an index.
The Size options are 1,2,3,4,5 and Full where Full will fill the slide with as many thumbnail rows as as will fit. The images below shows what various Size selection will look like. Note that the Position is set for bottom for these views.
The effects of selecting 1,2,3 an Full from the Size pull down menu.
The Background pull dow selection menu is used to specify the color of the background of the slide index. The background is defined by a standard color box and may be a solid, transparent gradient or selected texture.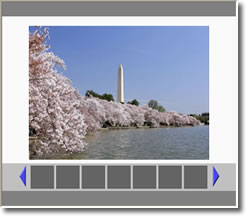 Background of index shown set to 25% gray from the color selection menu.
The Thumbnail Size pull down menu provides for the selection of the preview thumbnails size. Fire preset choices are provided:
Very small
Small
Medium
Large
Extra large
The Arrow Color pull down menu provides a standard color picker to specify the navigation arrow color.
Click Here to for more information on configuring a photo index.