The images above show what Full Screen mode looks like. The Image to the right shows the Slide Show control bar which will appear if the cursor is brought to the very bottom of the screen. This provides Slide Show control for group presentations or for personal control. Moving the cursor anywhere in the image hides the Control Bar.
When a show is published as a Self-Playing show or an Auto-Run CD The player provides a full screen Icon and similar controls. The Show controls in the Standalone player only provide start, stop and rewind (aback to the beginning
Publishing to Full Screen
A Show may be published tat will Auto-Play i n Full Screen mode. This is accomplished by clicking on the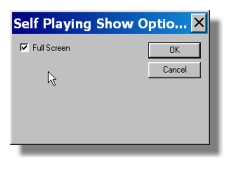 Full Screen box in the Self Playing Option dialog box (shown to the right. A similar selection process is provided for creating Auto-Play CD that will begin playing in Full Screen mode.
Full Screen Slide shows require the highest resolution settings. It is also desirable to have a format that will fit most pictures to the screens height and width aspect ratio (4:3). The Show tab under Slide Show Properties provides Three Full Screen selections for show size. This will provide a portrait format with optimum resolution for any application. We recommend the Large Full Screen setting if file size is not critical. The Medium and Small screen settings can provide adequate resolution for small screen viewing and the Medium setting is a good compromise if quality is desired but e-mailing the show is required.
Finally, we recommend using images of at least 800 x 600 for quality full screen shows.
Related Topics