Slide Show Sound Continued
The Compression Drop-Down Box provides a selection of choices for for sound quality and file size.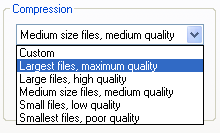 The Choices range from Largest Files, Maximum Quality to Smallest Files, Poorest Quality in five self descriptive selections.
Compression and File Size
A sound file can require more storage and computer resources than the image portion of a slideshow or in fact any multimedia presentation. StillMotion Personal Edition provides complete control over the management of sound files.
Here is an example of the effect of sound on file size. We created an 11 image 40 second show to be displayed at 360 x 360 pixels. The Slide Show was created at medium quality.
Here are the results:
Slide Show No Sound 164K

Slide Show With Lowest quality Sound 208K- Sound adds 44k

Slide Show with Best quality sound 488K- Sound adds 324K
If you are going to publish your slide show to a CD ROM then high quality sound will be appropriate. For Web application a medium to low quality will get the job done.
Selecting Custom provides the ability to set the sound parameters for your specific needs.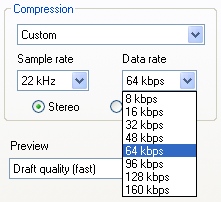 The illustration shows the Slide Show Property Sheet with Custom selected.
Selecting Custom provides access to detailed sound settings. A full explanation of these is beyond the scope of this description. The first selection is Sample Rate, this determines how many sound samples a second are used in the Sound Track. The choices are either 11Khz (11 thousand samples a second) or 22Kh. The Data Rate is the amount of data used to represent the sound stream. The higher the data rate, the better the sound and the larger the file. The data rate is selected from the Data Rate Drop-Down Box as shown in the illustration above.
Experimentation will reveal the best settings that work for specific applications.
Under the Data Rate Drop-Down Box is the Convert Stereo to Mono Button. Setting this box will convert a stereo sound track to mono. This is desirable for internet applications and will reduce the size of the soundtrack dramatically.

The Preview drop down menu provides selection of sound quality in Preview mode.
Sound rendering requires substantial computation and so slows the Preview rendering significantly. The choices are Mute, which turns off sound in the Preview mode. This provides the fastest rendering. Draft Quality produces low quality sound in Preview but is more than adequate to check timing and allow editing.
Full quality provides the sound in the full quality that it will be Published in.
Note: The Preview selection does not effect the final Published sound quality but is meant to facilitate speedier rendering for preview and editing.