File Menu (Continued) Specifying the Video File Attributes
If the OK button of the Make Movie File dialog box is selected the a standard Windows File Menu will appear. This is a standard File Menu dialog under which the name and destination of the video file is specified.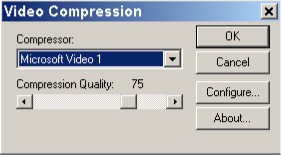 Video Compression Dialog Box After the file name and path are selected the Video Compression Dialog Box will appear. This is the final step in creating a video movie. The Compressor pull down menu provides a selection of CODECs available on your machine. See the links in the Resource section for more information CODEC selection that is beyond the scope of this document. Each CODEC has its own properties and parameters that are exposed by selecting the Configure Button. The Compression factor is passed from the Make Movie Dialog but can be changed here. Again experience and experimentation will yield the best results as the selection of the optimum compression value is more art than science.